Meeting Room AV Integration and Video Conferencing System Implementation and Support Companies in Singapore.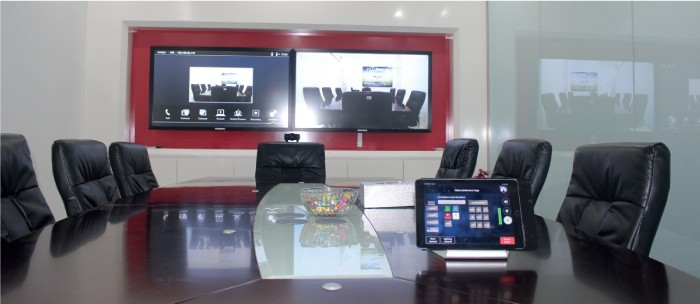 We have been providing system integration services in the audio visual, office automation and videoconference disciplines. We are partner with technology from Projection Design (high performance projectors), Cnario (digital signage), Crestron (control systems), Extron, Kramer, Polycom, Samsung, Avaya ,Various Room Boking System with complete integration with other meeting room equipment's to provide the end to end AV solution to automate the meeting room devices to enhance meeting room productivity .
To make a meeting room ready for a Video conference or presentation, it usually takes about 15 minutes. The typical tasks include rolling down the projector screen, Adjusting the lights, switching on the projector or TV etc. It usually requires a person from the admin team to be present during this set up process. With our meeting room automation solution, you can do all the above mentioned tasks with the touch of a single button.
WE CAN HAVE AUTOMATED THE CONFERENCE ROOM EQUIPMENT'S LIKE BELOW :
Smart Class control We can put the smart class instead of Blinds to cover the meeting room then if needed we can automate the class become transference or non- transference.
Projector Control Switch on and off projector without worrying about the remote and its functioning. Even pull down the projector only when needed, otherwise hidden in the ceiling.
Air Condition Control Preset a suitable temperate and operate the AC from our wireless control panel.
Class or Blinds Control Close or open all the curtains at the same time with the tough of a button.
Lighting Control Control the intensity of the lights from a touch screen
Scene Control Operate lights, projector and blinds with pre-configured 'Presentation Start' and 'Presentation End' scenes.
Touch Panels Choose from a range of touch panels – wireless, desk mount, wall mount – to suit your conference room.