WE DO PROVIDE MICROSOFT EXCHANGE SERVER SOLUTIONS DESIGN WITH HA, INSTALLATION, ADMINISTRATIONS, EMAIL ARCHIVING AND SUPPORT SERVICES.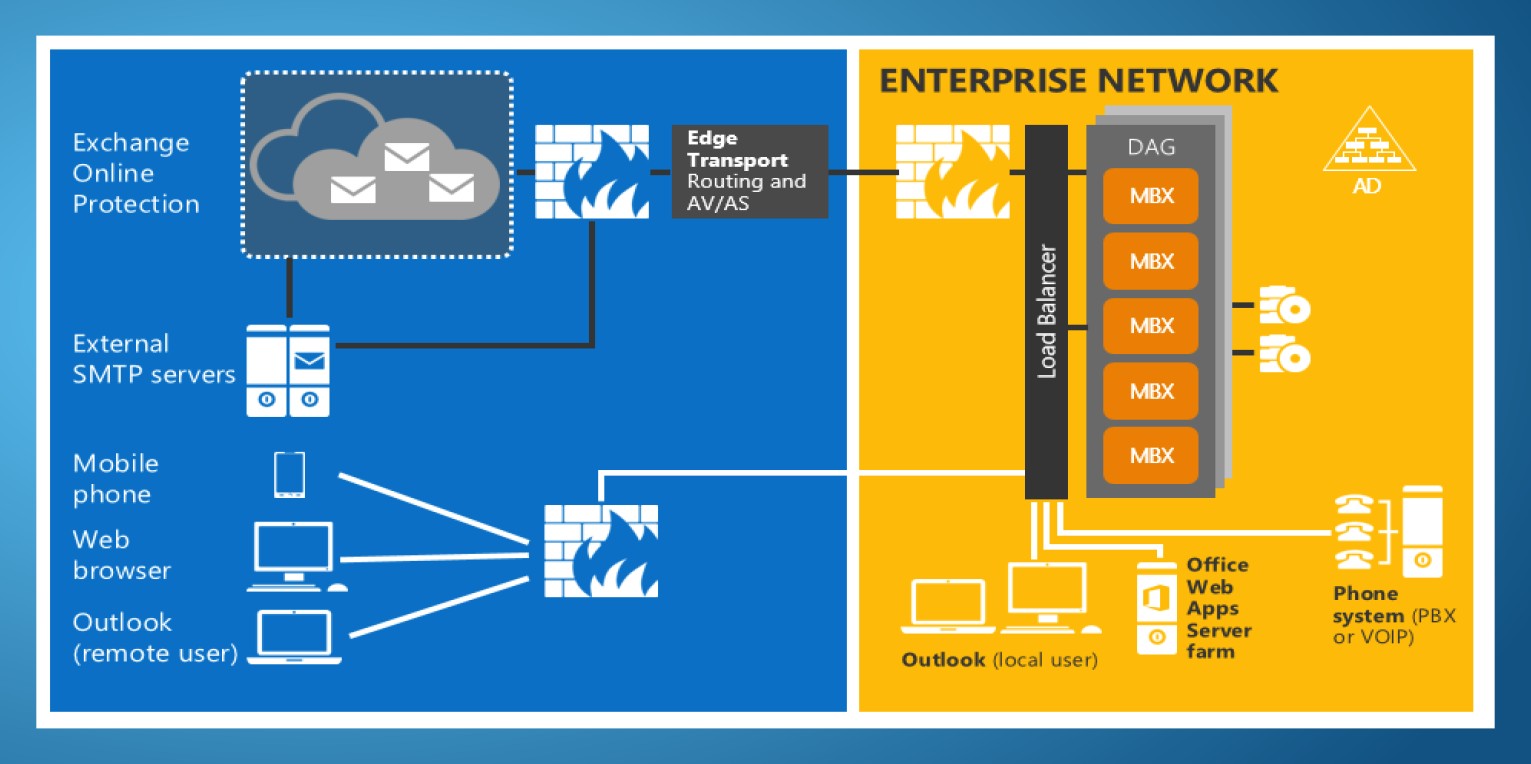 We offer full range of Exchange Design, installation, migration, maintenance and support for all Microsoft Exchange products. Our Microsoft Exchange Expert team can help you with any design issue or question you may have regarding your Exchange software, server operating system or the server hardware it is running on. If your business has out grown traditional email like POP, AOL, Gmail or other email services we can set your business up with its own internal email system and help you manage your Exchange software. We can also perform a migration/upgrade of Exchange 2000, Exchange 2003 and Exchange 2007 to newer versions without causing any disruptions to your users.
MICROSOFT EXCHANGE SERVER ADMINISTRATION
It doesn't matter what type of server your Exchange Server is installed on, we can offer full administration services. We can help your business keep Microsoft Exchange running fast, securely and problem free. We can handle all aspects of your Microsoft Exchange software including User Administration, Spam Filtering, Email Backup, Security, and much more.
MICROSOFT EXCHANGE MAINTENANCE SERVICE
Microsoft Exchange Server requires routine maintenance in order to keep it running fast and trouble free. Certain versions of Exchange require manual maintenance be performed, for example Exchange 2003 has a built in maintenance feature for the database, but it only performs a very light cleanup of the database and it is still recommended that the mailbox store be cleaned using a utility tool like ESEUtil to get the database fully optimized. Microsoft Exchange Servers (2003, 2007 and 2010) all have a mailbox store that contains each user's mailbox. To keep Exchange running fast and smoothly you must perform maintenance on the database / mailbox store. We use a suite of tools including ESEUtil which is used to defrag, compress and maintain the database structure and data inside the mailbox store.
MICROSOFT EXCHANGE SERVER BACKUP
Exchange Server backups are extremely important. A lot of businesses suffer from data loss within the Microsoft Exchange mailbox store even though they had a backup of the server. Backing up Exchange is simple and can be done with the native Microsoft Windows backup program or a server backup program like Symantec Backup or Arcserve. To setup the built-in Windows backup program you start by going to the Run command and typing "NTbackup" and pressing OK. Next drill down to your server in non-wizard mode and you will see Exchange databases. Simply click on your mailbox store and you can then click your database. Once the backup for Microsoft Exchange 2003 is executed you can click and select the databases and start the backup job. We recommend scheduling the backup job and having the backup performed nightly to a tape drive, off site backup or external storage device. Also please note to back up the System State as well, this will also be needed in the event of a disaster.
EMAIL ARCHIVING AND E-DISCOVERY
With businesses generating and sharing an ever-increasing volume of information through e-mail, the ability to protect and preserve these critical communications is essential. Whether your motivation is to improve storage management, meet regulatory requirements for data retention, or lower the costs of conducting electronic discovery (e-Discovery), implementing an effective e-mail archiving and discovery solution can offer a number of benefits
SOLUTIONS FREE OF USERS FROM MAILBOX QUOTA FRUSTRATIONS.
Symantec email archiving solutions can drastically reduce your organization's storage footprint and costs. Regardless of your current email environment, Symantec's Enterprise Vault and Enterprise Vault.cloud provide the intelligence to help you efficiently store, manage, and discover your organization's information
MICROSOFT EXCHANGE SERVER SPAM FILTERING
Our Expert team Consulting offers a few types of Spam Filtering options for businesses with Microsoft Exchange Servers. Depending on the type of server you have and the version of Exchange you are running we can significantly reduce the Spam you receive in your email. Microsoft has included a built-in Spam filter in Exchange for the past few years, but significant improvements have been made in the Exchange Server 2007 Spam Filtering technology. We also offer a network appliance (server) that can be installed on your network that will give you even more control over your Spam problems.
EMERGENCY MICROSOFT EXCHANGE SERVER SUPPORT
We can help your business with any Microsoft Exchange Server emergencies. Our emergency Exchange service team can help restore email service, crashed mailbox stores, deleted email and other common emergencies. We cover all versions of Microsoft Exchange Server.