SYSNET WILL DESIGN , INSTALL, SUPPORT AND UPGRADE SERVICES FOR THE MICROSOFT SYSTEM CENTER SUITE OF PRODUCTS TO EMPOWER USER PRODUCTIVITY , SIMPLIFY ADMINISTRATION AND UNIFY OUR CUSTOMER IT MANAGEMENT INFRASTRUCTURE .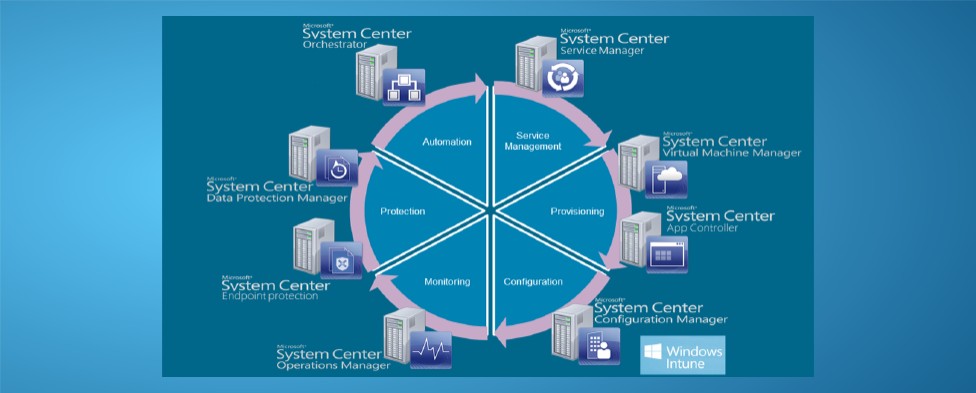 SYSTEM CENTER CONFIGURATION MANAGER
System Center Configuration Manager (SCCM) starts with the ability of imaging or laying down the base operating system on a server or client system based on specific organizational guidelines for configurations. Once the operating system has been installed, SCCM continually patches and updates the system as well as provides the ability to push out new software to the system, also based on specific templates and guideline configurations. SCCM keeps track of system inventory, provides remote-control capabilities, and provides IT administrators the ability to ensure the system configuration is maintained in a common configuration.
SYSTEM CENTER OPERATIONS MANAGER
Once SCCM lays down the base configuration of the system and keeps it patched and updated, System Center Operations Manager (SCOM) takes over for monitoring the ongoing health of the system as well as the applications installed on the system. Specific rules are created that track the normal operations of the system, and any time the system falls out of the standards, the organization's IT personnel are notified of the changes.
SYSTEM CENTER DATA PROTECTION MANAGER
Although SCCM and SCOM deploy and monitor system operations, there are times when data is corrupted or lost or systems fail and having a backup of the data is crucial. This is where Data Protection Manager (DPM) fits in as it backs up client systems, server file systems, Exchange databases, SharePoint data, or SQL databases on a continuous basis, providing an organization the ability to recover a single lost or corrupted file all the way through restoring a completely dead system.
SYSTEM CENTER VIRTUAL MACHINE MANAGER
Although all of the previous tools chug along doing IT-related tasks, such as imaging, patching, monitoring, and backing up, organizations also have a need to manage processes and change control. The System Center Service Manager (SCSM) product is an incident management and change-control system that tightly integrates with SCOM, SCCM, and VMM to take alerts, automatically log the problems, take inventory information, and track system configurations so that help desk personnel and support individuals have at their fingertips information they need to support users and application owners in the enterprise. SCSM brings together management policies and processes as the umbrella under which the other System Center tools facilitate day-to-day tasks and procedures.
SYSTEM CENTER SERVICE MANAGER
As the industry has shifted from one made up of primarily physical server systems to one where servers are now virtualized in the data center, the Virtual Machine Manager (VMM) product from Microsoft helps organizations manage their virtual systems. In the fully managed scenario, in the event that SCOM identifies a physical or virtual system is about to fail, it can automatically create a new guest session using SCCM to a Hyper-V or VMware virtual host, build out a brand-new system, and use DPM to automatically restore the latest backup of information all as a scripted disaster recovery process. VMM can also transfer fully running physical servers and transfer the operating system, application, and data to a virtual server in an automated physical-to-virtual (P2V) conversion process.
SYSTEM CENTER CAPACITY PLANNER
As an organization looks to replace servers and systems, or upgrade and deploy new software applications, the System Center Capacity Planner helps the organization test performance demands on current systems and model the future environment relative to the necessary hardware specifications needed to meet the performance demands of the organization.
SYSTEM CENTER MOBILE DEVICE MANAGER
Throughout an enterprise, an organization doesn't have just servers and client workstations, but the proliferation of mobile devices make up the IT landscape. System Center Mobile Device Manager (MDM) integrates with SCCM to provide cradle-to-grave management of mobile devices similar to what SCCM does for servers and client systems, including provisioning, updating, securing, monitoring, and wiping devices in the course of a mobile device's life cycle.