PENETRATION TESTING SERVICES – "PROACTIVE WAY OF SECURING THE IT SYSTEMS ".
We are providing IT penetration testing and vulnerability assessment services by Proven Methodology and custom-tailored to your unique IT requirements.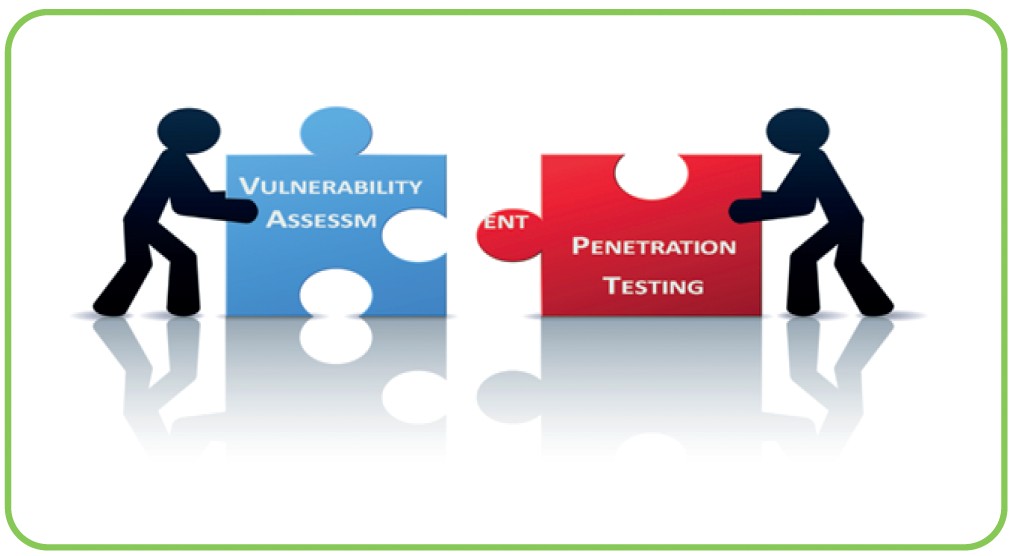 We offer a comprehensive penetration testing package that begins with safe and controlled exercises to simulate covert and hostile attacks. And it ends with specific guidance and recommendations for reducing risk and increasing compliance.
NETWORK SECURITY PENETRATION TESTING SERVICES
We're experts at helping companies assess the status of their network's security. Explore three of our most common service requests below. This is one of the most common types of penetration tests, and involves finding target systems on the network, searching for openings in their base operating systems and available network services, and then exploiting them remotely.
INTERNAL PENETRATION TESTING
Assessing the security of your internal network requires deeply experienced experts with highly specialized testing tools and processes. Automated scanning is not enough. You need more.
EXTERNAL PENETRATION TESTING
How can you possibly know that your internal network and proprietary data is secure without testing from the outside in? Manual penetration testing of your external internet-facing websites, partner-integration points, networking devices and more should be included as a part of your regular security regimen.
INFRASTRUCTURE ASSESSMENT
As your network evolves, you can unintentionally introduce structural security problems. Infrastructure security requires regular checkups of your network architecture, your virtualized environment, database security and more.
APPLICATION PENETRATION TESTING SERVICES
An Application Penetration Test is an ethical attack simulation that is intended to expose the effectiveness of an application's security controls by highlighting risks posed by actual exploitable vulnerabilities
WEB APPLICATION PENETRATION TESTING
Automated attacks are probably at work on your website right now. We find web application vulnerabilities that invite criminals to make you their next data breach target and more.
CLIENT-SIDE PENETRATION TEST
This kind of penetration test is intended to find vulnerabilities in and exploit client-side software, such as web browsers, media players, document editing programs, etc
MOBILE APPLICATION PENETRATION TESTING
Mobile apps are being developed at an incredible rate and handed out like candy. If you're not confident that your mobile apps are secure, we can help.
APPLICATION CODE REVIEW
Your software can't hide the security issues deep inside when our application security experts examine the code from the inside.
IT ADVISORY SERVICES
All large to mid-sized organizations like yours deal with the never-ending proliferation of new applications on your network that can provide access to your computing devices and proprietary data, and put your regulatory compliance at risk. You need to be continually looking for software vulnerabilities in your applications and eliminating them in a systematic way. Sysnet has over a decade of experience acting in the role of trusted advisor helping companies improve on these and many other security issues. Read below about three of our most in-demand advisory services, but don't be shy in contacting us to discuss any other need you may have for a deeply experienced and trusted security advisor.
COMPLIANCE SERVICES
Compliance services are far from being a commodity in deliverables and pricing. You need a common-sense advisor protecting both your compliance and your budget. We are offering mature, cost-effective compliance and advisory services. In addition to our Vulnerability Assessments, we are providing Penetration Testing, Web Application Security Assessments and Internal IT Security Assessments . Most of our services address various regulatory compliance including MAS, IBTRM, PCI, etc., Our world-class security engineering team delivers expert guidance to help you protect your critical infrastructure, harden web applications, safeguard confidential data, and improve security awareness throughout your organization.
VULNERABILITY ASSESSMENTS
Sysnet provides vulnerability assessments and other security related services. Our approach of Vulnerability Assessments is to first gain an understanding of your business, IT environment and objectives. This allows us to create for your organization a key findings report about your organization. In addition to the specified objectives, our IT security experts prepare detailed test plans based upon your organization's unique IT architecture.